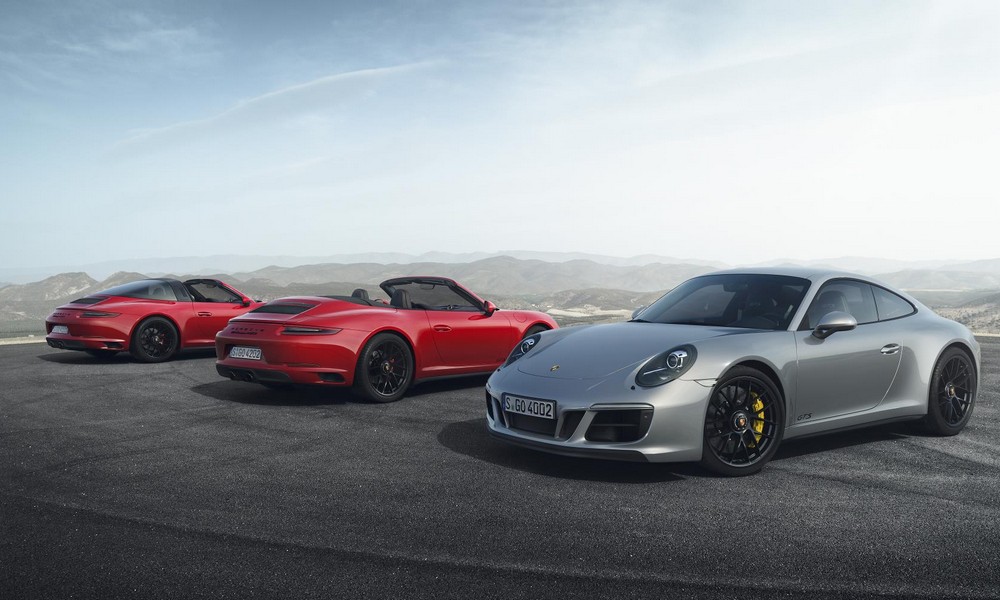 New for 2017
The GTS is completely redesigned for 2017, moving to the "991.2" platform already used by other 911 models.
The 911 Sweet Spot
If you want a Porsche 911, be prepared to make a lot of decisions. From the Carrera to the Turbo to the GT3, Porsche offers a seemingly endless array of models and options. That's good news for discerning buyers, but can be a bit daunting for those with less specific tastes. Enter the 2017 911 GTS.
Performance
When it comes to configuring a 911, Porsche offers no shortage of options. But the 911 GTS may be the best all-rounder. It offers an impressive balance of performance and everyday usability.
The GTS uses a version of the 3.0-liter twin-turbocharged flat-six from the 911 Carrera, tuned to produce 450 horsepower and 405 pound-feet of torque. As with the Carrera, GTS buyers get to choose between a seven-speed manual transmission or a seven-speed PDK dual-clutch automatic. The GTS is available with rear-wheel drive or all-wheel drive.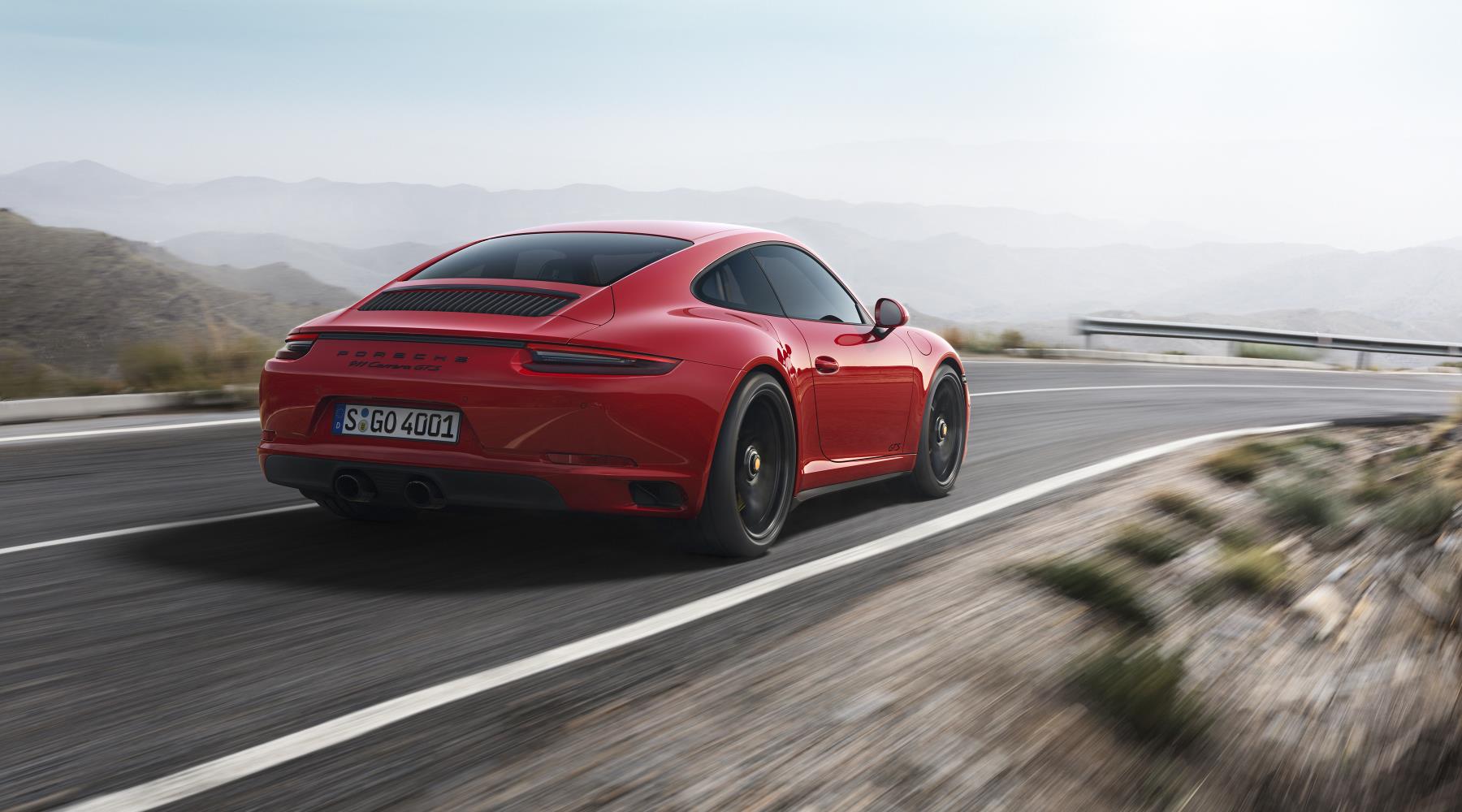 With 30 more horsepower than the current 911 Carrera S and 20 more horsepower than the previous-generation GTS, it's not surprising that the 2017 GTS can get going in a hurry. With all-wheel drive and the PDK transmission, the GTS coupe will do 0 to 60 mph in 3.4 seconds and achieve an EPA-rated 22 mpg combined (20 mpg city, 26 mpg highway).** The GTS is also capable of reaching 193 mph in coupe form with rear-wheel drive and the manual transmission.
GTS models also get Porsche Active Suspension Management (PASM) adaptive suspension as standard equipment. Coupe models get a special PASM Sport version, which lowers the ride height by 0.39 inch. The Porsche Track Precision app allows drivers to record and analyze driving data on a smartphone, opening up new possibilities for showing off.
Features
The 2017 Porsche 911 GTS is a two-door, 2+2 sports car available as a coupe, convertible, or Targa semi-convertible. All GTS models are available to order now and will arrive in dealerships this April. Pricing starts from $119,000.**
Standard equipment includes 20-inch alloy wheels, LED taillights and daytime running lights, heated exterior mirrors, Porsche Communication Management infotainment system with Apple CarPlay™, SiriusXM® satellite radio and HD Radio™ receivers, Bluetooth®, 4.6-inch TFT display, dual-zone automatic climate control, Alcantara® power-adjustable sport seats, and more.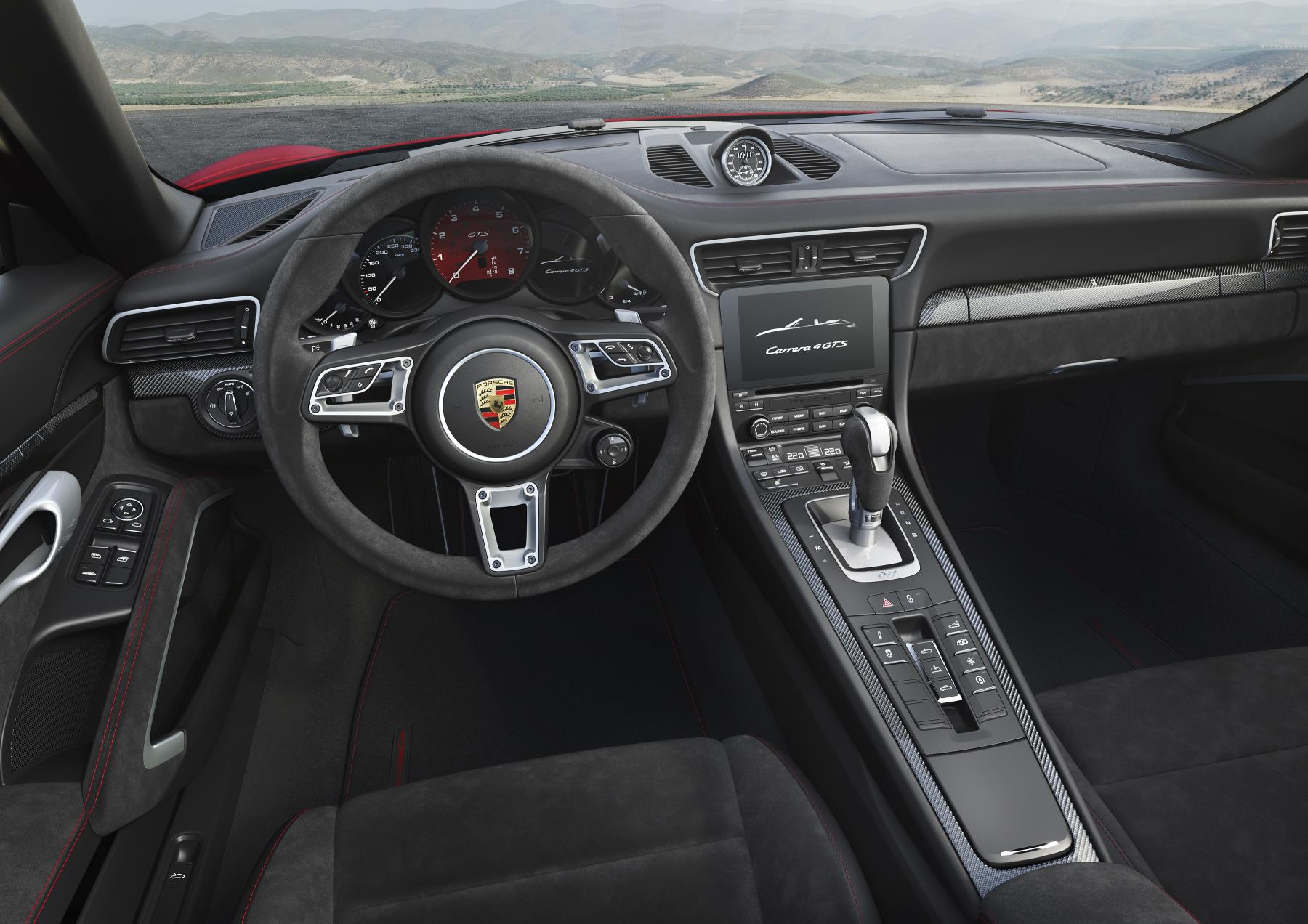 Optional features include LED headlights, upgraded sport seats with memory package, front-axle lift system, carbon-ceramic brakes, auto-dimming mirrors, heated and ventilated seats, heated steering wheel, fire extinguisher, and Bose® or Burmester® premium surround-sound systems.
Porsche also offers a number of customization options for exterior and interior trim through its Exclusive division. The options include everything from carbon fiber, aluminum, and Alcantara® interior trim to color-coordinated seatbelts. Porsche also lets customers take delivery of their cars at its Experience Centers in Atlanta and Los Angeles or at the German factory where said cars are actually built.
Design
The current-generation Porsche 911 puts a new spin on a classic design that has been around since 1963. It recalls classic 911 models while still looking suitably modern. The GTS models get their own special styling touches to distinguish them from other versions of this iconic sports car.
The recently updated 911 is lower, longer, and wider than its predecessors, but retains classic styling cues like round headlights and a rear fastback profile. The current-generation GTS is available as a coupe, convertible, or Targa. The latter features a glass rear hatch and retractable roof panel, and it may very well be the most stylish 911 variant. The Targa was introduced by Porsche in the late 1960s when the company thought U.S. regulators might ban traditional convertibles.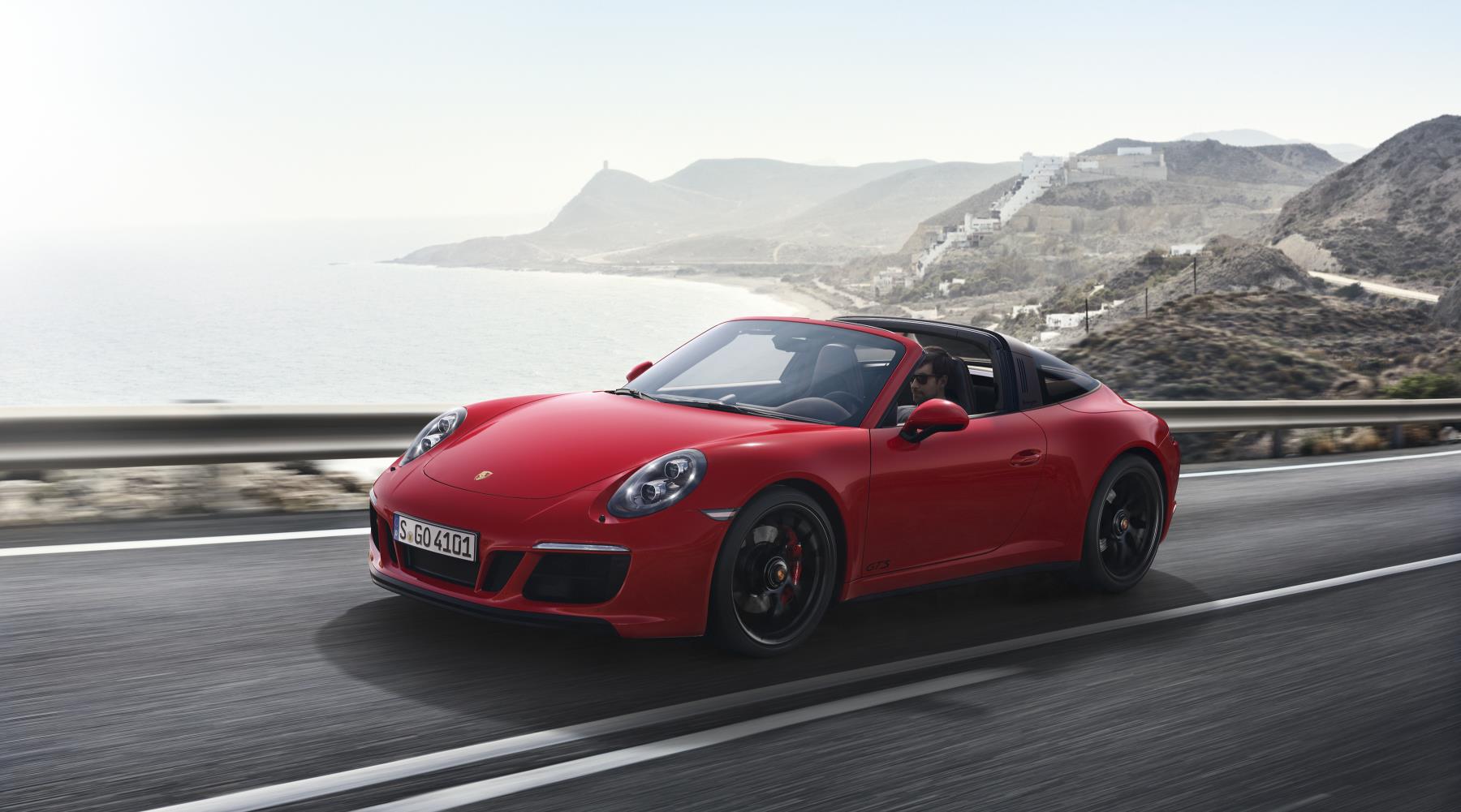 On top of the standard 911 styling, the GTS models features several sporty cues. All versions get the wider Carrera 4 body, along with a Sport Design front end that incorporates a black lip spoiler. At the back, the rear spoiler is set to extend further, the taillights are tinted, and the tailpipes get a black finish. The model-specific 20-inch wheels, badging, and distinctive roll bar on Targa models are also blacked out.
The interior features leather and Alcantara® sport seats with the GTS logo on the headrests, as well as a sport steering wheel. Standard interior trim is a mix of Alcantara® and brushed aluminum with a black anodized finish, but Porsche offers many other options for buyers looking to personalize their cars.
Safety
Standard safety equipment on the 2017 Porsche 911 GTS includes anti-lock brakes, stability and traction controls, rearview camera, park assist, and a full array of airbags. Optional features include adaptive cruise control and lane keep assist.
Verdict
The 2017 Porsche 911 GTS may offer the best blend of performance and usability of any current 911 model.
For more information or to schedule a test drive of the 2017 Porsche 911 GTS, contact us online or visit indiGO Auto Group – Desert European Motorcars Campus at 71387 CA-111, Rancho Mirage, CA 92270.
*EPA estimates. Your mileage will vary depending on driving habits and conditions.
**Manufacturer's Suggested Retail Price (MSRP) excludes transportation fees, taxes, license, title, optional or regionally required equipment. Actual dealer price may vary.
Image: Porsche