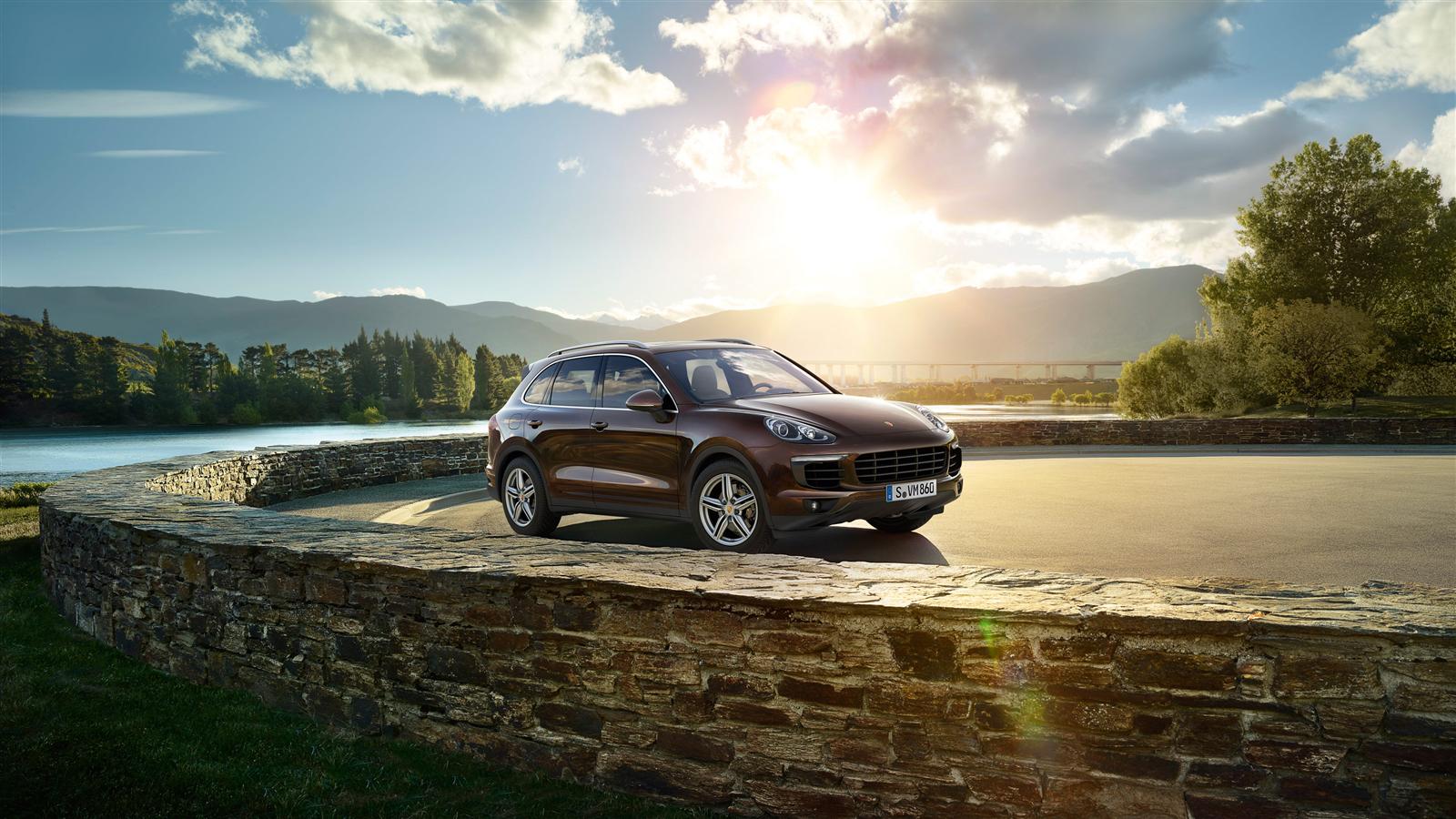 New for 2017
For 2017, the Porsche Cayenne welcomes two new models to its lineup: The Limited Edition and Cayenne S E-Hybrid Platinum. The Cayenne also gets the latest PCM 4.0 touchscreen infotainment system, which is now standard on all models.
Adding some spice to the SUV segment
For generations, Porsches were out of the reach of those who needed a practical car. That changed with the introduction of the 2017 Porsche Cayenne, and the latest model is both sportier and more practical than ever. It has the performance to justify the Porsche badge, but also does everything you'd expect of a midsize SUV. With the 2017 Cayenne, Porsche continues to spice up the SUV segment in a way only Porsche can.
Performance
Owning a Porsche means satisfying your need to experience the very best in automotive engineering, which is why, despite its status as an SUV, the Cayenne is infused with all the makings of a true sports car – just in the guise of a supremely confident and versatile crossover SUV. With the 2017 Cayenne, there are no compromises – only the gratification felt as all your expectations are swiftly surpassed.
The base Cayenne features a 3.6-liter V6 with 300 horsepower and 295 pound-feet of torque, which drives all four wheels through an eight-speed automatic transmission in all Cayenne models. Porsche says this model will do 0 to 60 mph in 7.3 seconds and reach a top speed of 142 mph. It will also get EPA-rated fuel economy of 20 mpg combined (18 mpg city, 24 mpg highway).*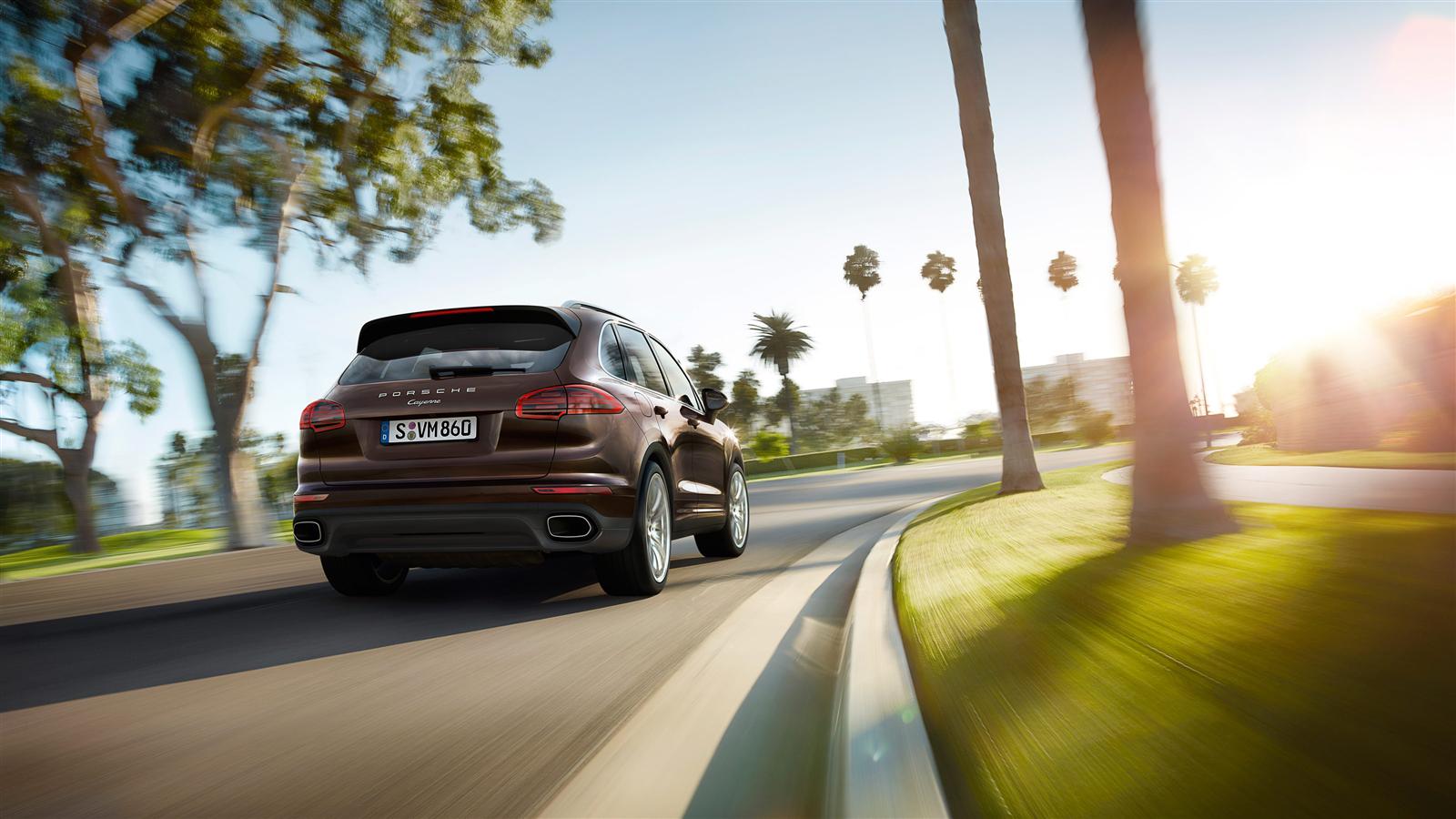 A further step up the Cayenne ladder is the Cayenne S. This model features a turbocharged 3.6-liter V6 with 420 hp and 406 lb-ft of torque. It does 0 to 60 mph in 5.2 seconds, can reach a top speed of 161 mph, and achieves 20 mpg combined (17 mpg city, 24 mpg highway) in EPA testing.*
Another model with a focus on fuel efficiency is the Cayenne S E-Hybrid. This is actually one of three plug-in hybrids built by Porsche, along with the Panamera S E-Hybrid sedan and the 918 Spyder supercar. The Cayenne S E-Hybrid combines a 3.0-liter supercharged V6 with an electric motor and lithium-ion battery pack.
On both gasoline and electric power, the plug-in hybrid Cayenne boasts 416 hp and 435 lb-ft of torque, which gets it from 0 to 60 mph in 5.4 seconds and on to a top speed of 151 mph. It gets an EPA-rated 47 MPGe combined as a hybrid or 22 mpg combined on just gasoline and can drive solely on electric power for up to 14 miles.*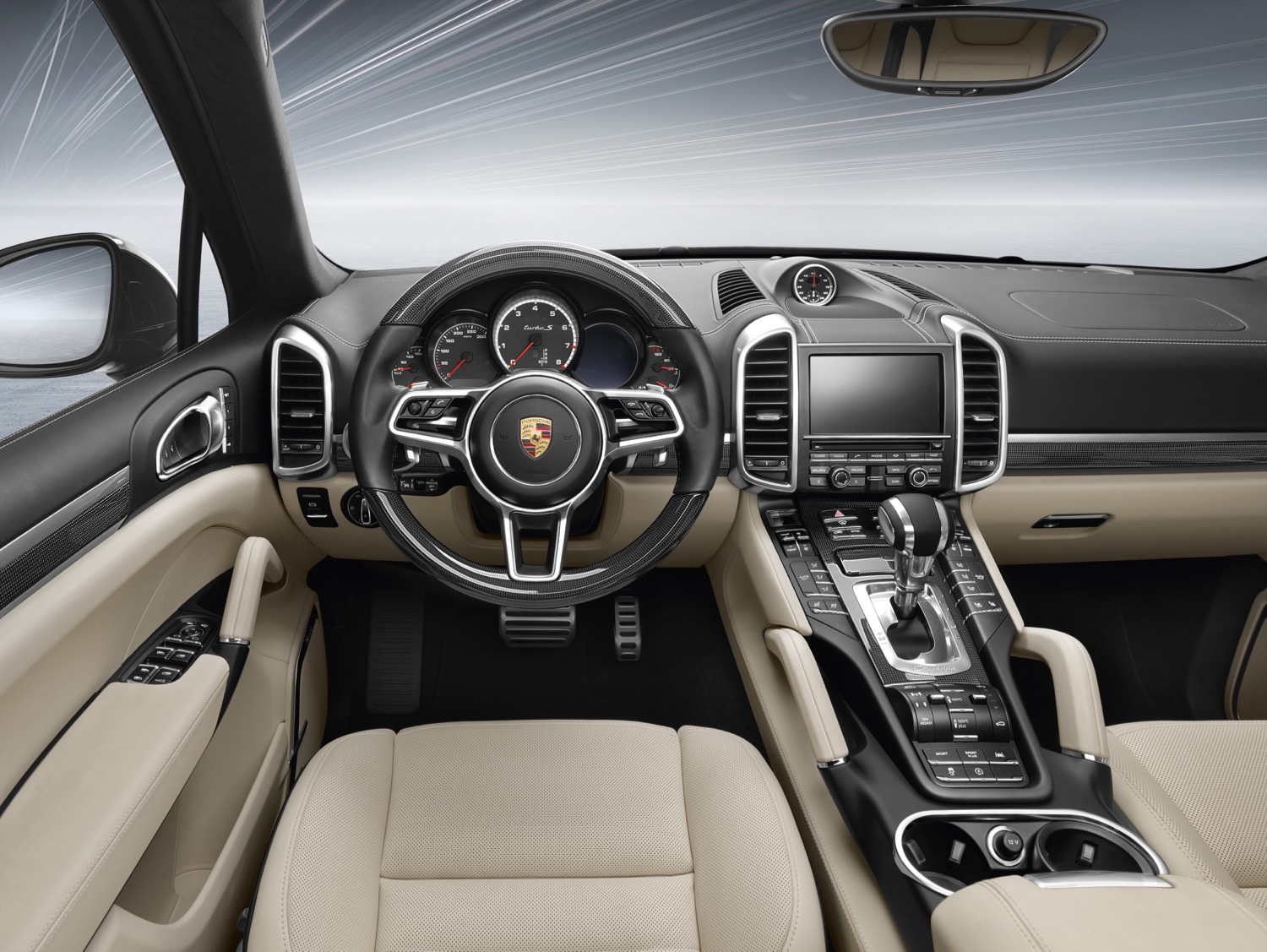 Entering the sportier part of the lineup, we come to the Cayenne GTS. Porsche typically reserves the GTS moniker for models that are sporty, but not too extreme, and that's exactly the case here. The Cayenne GTS has a turbocharged 3.6-liter V6 that produces 440 hp and 442 lb-ft of torque. It does 0 to 60 mph in 4.9 seconds, reaches a top speed of 163 mph, and gets an EPA-rated 19 mpg combined (16 mpg city, 23 mpg highway).*
The Cayenne Turbo isn't the only turbocharged model in the lineup, but it's one of only two V8 models. The 4.8-liter turbocharged mill produces 520 hp and 553 lb-ft of torque. It does 0 to 60 mph in 4.2 seconds, tops out at 173 mph, and returns an EPA-rated fuel economy of 17 mpg combined (14 mpg city, 21 mpg highway).*
Finally, the Cayenne Turbo S features a more powerful turbocharged 4.8-liter V8, with 570 hp and 590 lb-ft of torque. That hurls the Cayenne from 0 to 60 mph in 3.8 seconds and on to a top speed of 176 mph. The Turbo S also gets an EPA-rated 17 mpg combined (14 mpg city, 21 mpg highway).*
Features
The 2017 Porsche Cayenne is only available as a five-door, five-seat SUV. Pricing for the array of models listed above starts at $59,600.**
Standard equipment includes bi-xenon headlights with LED daytime running lights, 18-inch alloy wheels, Porsche Communication Management system with navigation and 7.0-inch touchscreen, dual-zone automatic climate control, automatic tailgate, eight-way power front seats, multifunction sports steering wheel with paddle shifters, and more.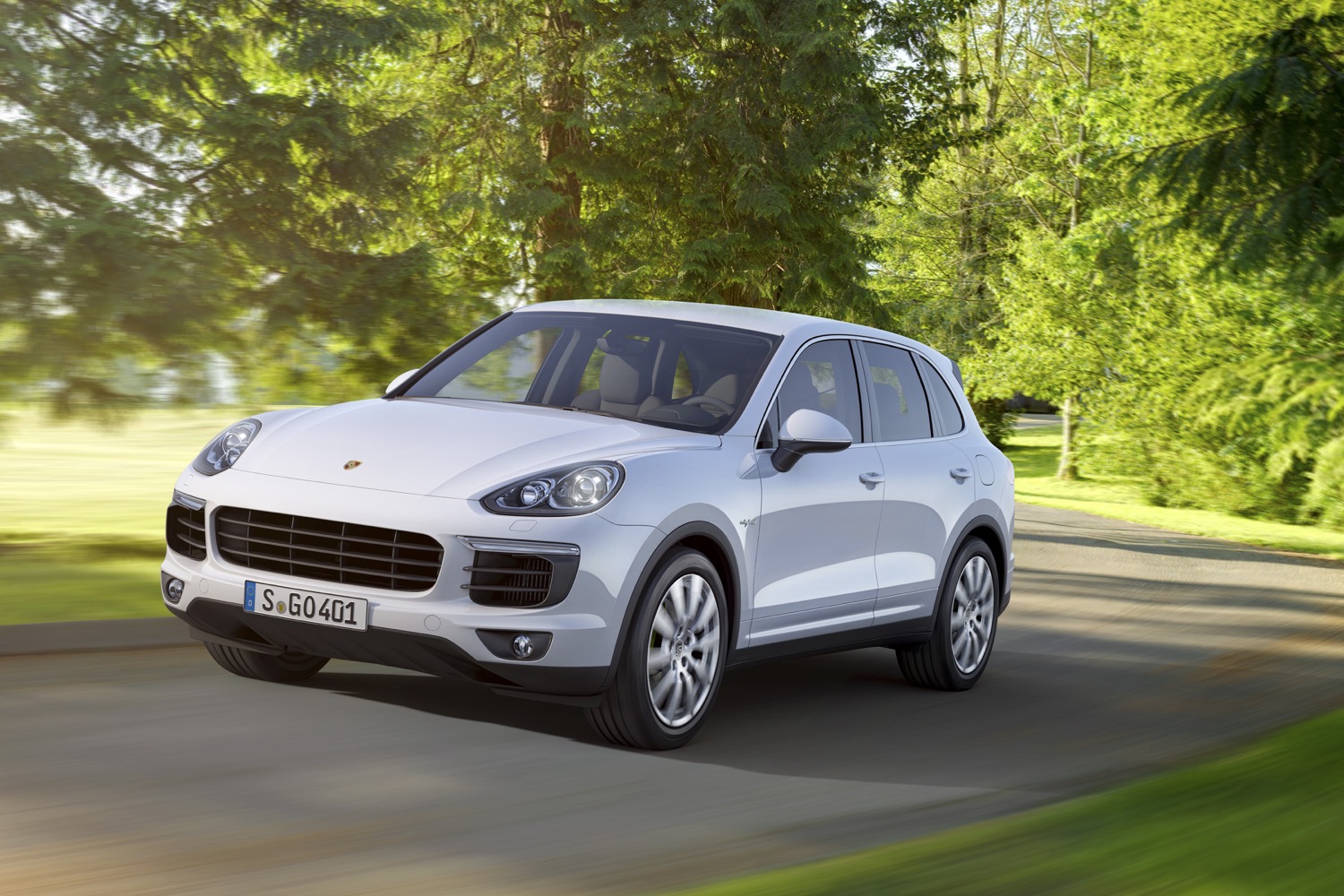 As with other Porsche models, there are also numerous individual options and opportunities for personalization. The list includes heated and ventilated seats, Bose® Surround Sound system, rear-seat entertainment system, Wi-Fi access, and voice control. There are also multiple color trim options for the dashboard, interior trim, and even the seat belts. If you're thinking about taking your Cayenne to the track, there's also a fire extinguisher.
Needless to say, there is a wide array of trims and available features to be had. For a complete look at each model, including all standard and available features, we recommend visiting us in person at indiGO Auto Group – Desert European Motorcars Campus.
Design
The 2017 Porsche Cayenne has a sculpted exterior that conveys its sporty character and connects this SUV to other Porsche models like the 911 and Panamera. The aggressive front fascia and bi-xenon headlights with LED signature give the Cayenne a commanding presence on the road, and the fast roofline is an appropriate change from boxy SUV orthodoxy.
The interior is equally sporty, with a leather-wrapped multifunction steering wheel, paddle shifters for the eight-speed automatic transmission, and supportive power seats. There's also a useful 23.6 cubic feet of cargo space (62.8 cubic feet with the rear seats folded).
Safety
Standard safety equipment on the 201 Porsche Cayenne includes anti-lock brakes, Porsche Hill Control, Porsche Traction Management traction control, Porsche Stability Management, and a full complement of airbags. Optional equipment includes lane change assist, lane departure warning, and adaptive cruise control.
Verdict
The 2017 Porsche Cayenne is the Porsche of midsize luxury SUVs. It features all the luxury and refinement you've come to expect from the German manufacturer, while providing the performance-inspired driving dynamics of a traditional Porsche.
To inquire about a test drive, please contact us online or visit indiGO Auto Group – Desert European Motorcars Campus at 71387 CA-111, Rancho Mirage, CA 92270.
*EPA estimates. Your mileage may vary depending on driving habits and conditions.
**Prices list are the Manufacturer's Suggested Retail Price for the vehicle and options chosen by you. These prices do not include transportation, taxes, title, other options, dealer installation costs, or other charges.
Image Credit: Porsche