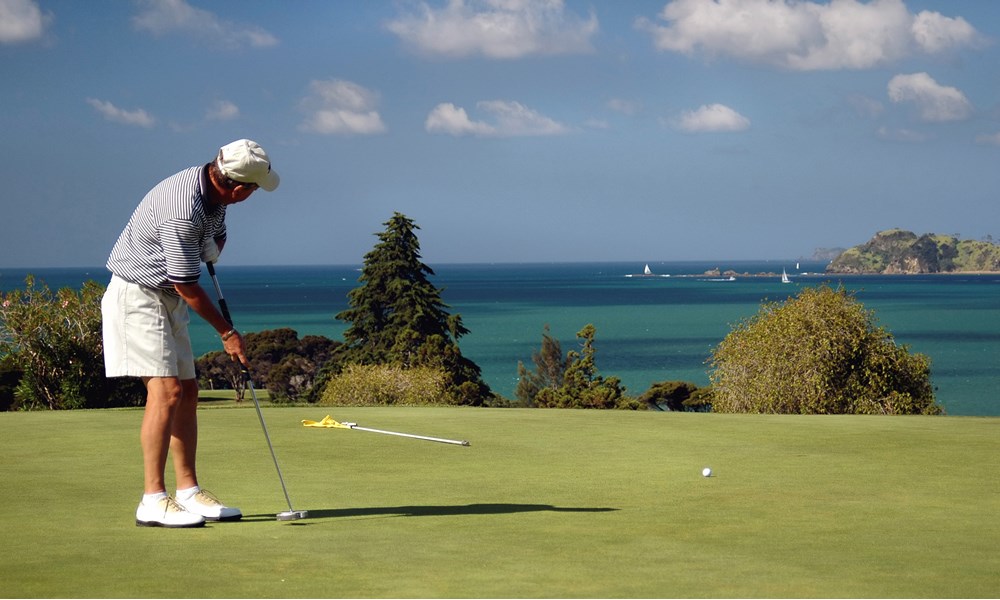 Just like the feeling you get behind the wheel of your luxury vehicle, the prestige and amenities that a private golf club membership can provide are priceless. Here's a sampling of the some of the most exclusive golf clubs in the world from indiGO Auto Group – Desert European Motorcars Campus.
Home to the annual Masters Tournament, Augusta National in Augusta, Georgia, is one of the world's most famous golf clubs. Founded by golf icon Bobby Jones and Clifford Roberts in 1933, the course is regarded as one of America's most beautiful with its lush, carpet-like fairways, brightly-colored azalea bushes, and dogwood trees. Augusta National has approximately 300 members and membership is by invitation only. There is no application process. Among the list of celebrity members are financial guru Warren Buffet; co-founder and chairman of Microsoft, Bill Gates; oil tycoon T. Boone Pickens; college football great Lou Holtz; and former chairman and CEO of Coors Brewing Company, Pete Coors.
Royal and Ancient Golf Club of St. Andrews
Renowned around the world as the "birthplace of golf," the village of St. Andrews in Scotland is home to the Royal and Ancient Golf Club of St. Andrews, which was established in 1754. The private golf club has a world-wide membership of 2,400. The facilities at the club include a members lounge and bar, billiards room, and trophy cabinet. Honorary members include Jack Nicklaus and former British Open Champion Paul Lawry. Members have access to the Old Course, one of the world's most celebrated layouts, as well as the New, Jubilee, Eden, Strathtyrum, Balgove, and Castle courses and the St. Andrews Links Golf Academy.
Reputed to have the world's highest membership fee (rumored to be around $1 million), Sebonak Golf Club in Southampton, New York, is a wealthy enclave near New York City. Featuring scenic views of Long Island's Great Peconic Bay and Cold Spring Pond, this golf course, designed by Jack Nicklaus and Tom Doak, features rolling fairways, natural areas, innovative bunkering and waste dunes, swales, burrows, and undulating greens.
The former home of the Domecq family (of Domecq Sherry fame) in Spain, the San Roque Club sits on 340 acres in Andalusia enveloped by cork oak woods and rolling hills. Over 500 members enjoy the amenities at the golf club, which features an historic clubhouse, two 18-hole championship golf courses, Equestrian Center, tennis complex, pool, and restaurant. San Roque has special reciprocal play agreements with exclusive private clubs in Europe and around the world. Memberships at the club vary and include corporate, seasonal corporate, and social membership levels.
Started by Jack Nicklaus in 1999 in Jupiter, Florida, the Bear's Club is a premier private club with a member list that includes Michael Jordan, Ernie Els, and a slew of other celebrities and CEOs. Situated on 370 acres in northern Palm Beach County, the Bear's Club is a 270-member, non-equity private golf club with a golf course that weaves through a natural setting of cypress, pine, and oak trees. Nicklaus is Chairman of the Board of the club and the majority owner of the residential community surrounding the course.